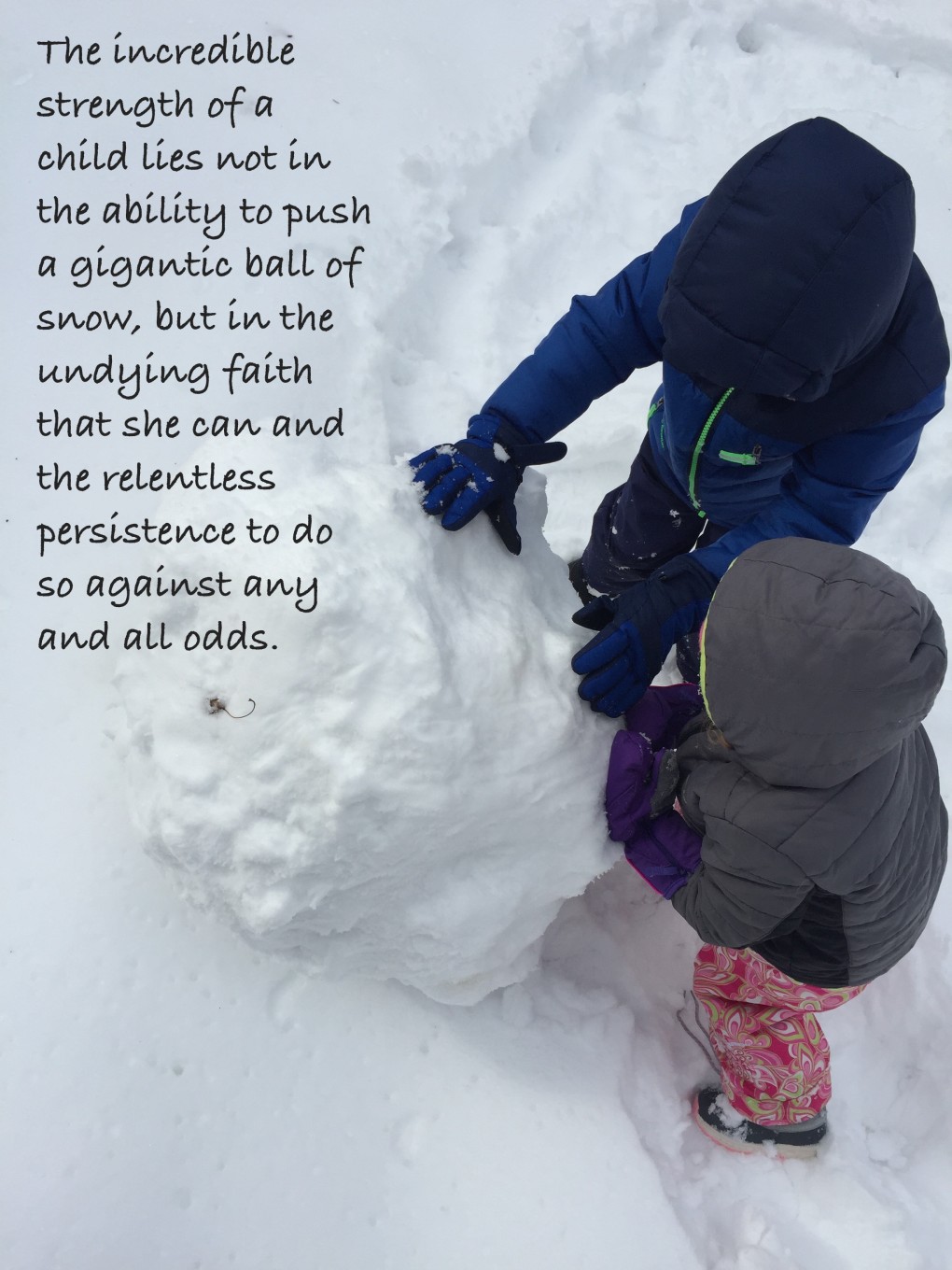 I exercise. My doctor told me to. More specifically, he told me to eat less and move more. It's good advice. So I do.
Anyway, sometimes my kids exercise along with me. In particular, my five-year-old son imitates every move I make during my daily routine. He grabs hold of my resistance band as soon as it leaves my hands, he pumps his arms up and down with a gritty growl and a stiffly crinkled face, almost masking the glowing smile plastered on it (but not quite).
He's thrilled to do it. He drops down for push-ups and sit-ups. He stretches and runs in place, and he breathes deeply through it all.
Then, he looks up at me with a profound and piercing pride and exclaims, "Look daddy, I'm strong like you!"
Strong like me. Indeed.
The kid will no doubt face his own challenges, and those challenges will test and teach him, however, even with life's innate guidance along the way, he will continue to look to me as a model of strength (and/or weakness), whether he knows it or not. It's part of the deal with kids and parents. They observe what we do through critically reflective lenses.
They do the same with all influential adults in their lives. They've got eyes on grandparents, teachers, coaches, etc. Therefore, it's equally important that we relentlessly consider what we do through critically reflective lenses as well.
Strong like me.
He's built how he's built. He'll have the capacity to endure his amount of struggle and tolerate his amount ache, but he's actively seeking to be strong like me.
An awesome responsibility, and one that gives me pause to think about what kind of strong I am, and what kind of strong I'm capable of being.
Am I strong enough to truly learn from mistakes?
Am I strong enough to check and regulate myself emotionally, spiritually, and intellectually through any and all challenges?
Am I strong enough restore myself to a place of focus and calm when I'm not?
Am I strong enough to hold back from crying when it isn't really that bad?
Am I strong enough not to when it is?
Am I strong enough to hold on?
Am I strong enough to let go?
Am I strong enough to restrain my strength?
Am I strong enough to unleash it?
Am I strong enough to understand the type of strength I would have my children develop if I could simply will it into them?
Am I strong enough to continuously work toward that understanding with every breath and every step along my journey?
I happen to believe that among the greatest strengths we can possess is the strength to persist.
Linus reminds Charlie brown, "It's the courage to continue that counts," not only because of a connection to comedic irony within the context of their Peanuts adventures, but also because there's some important truth to it. At the very least, it's worth considering.
Parents, educators, leaders, adults of all sorts, what kind of strong are you? What kind of strength are you modeling for the benifit the children you serve?
When I think of my children becoming strong like me I don't think of them running long distances or lifting heavy weights.
When I think of a strength legacy I prefer to think that my children, and all of the children I serve, will ever-increasingly have the strength to persists through ever-increasing odds, be they physical, spiritual, intellectual, emotional, or otherwise, and that something I've done, or will have done, will meaningfully impact that strength in them, even if only vaguely.
While I relentlessly fear the real and human possibility that I could fail in that mission, the fear is balanced by an equally relentless internal assurance that I will never give up trying not to.
Strong like me.
I'm continuously learning, growing, and hoping to one day understand exactly what that means for the incredible children I serve, and how I can contribute every bit of myself to the effort of making it so.
In the meantime, I'll just keep on my way with hope, faith, and all the strength I can muster.
Live. Love. Listen. Learn. Lead. Thanks.