A few months ago a strategy was brought to my attention at school. Our social worker was using a model called "The Zones of Regulation" based on the research of Leah Kuypers. Leah is an occupational therapist who has practiced in both school and clinical settings. 'The Zones of Regulation' is a framework meant to foster self-regulation and emotional control. More information about Leah and her work can be found at http://zonesofregulation.com. I'm a novice and plan to dig in more myself.
In the meantime a very basic understanding and application of Leah's concept immediately impacted my school and my home in a positive way.   We began exposing our students to the four "Color Zones:"
– In the "Blue Zone" you're sad, tired, and distracted.
– In the "Green Zone" you're happy, calm, and ready to learn.
– In the "Yellow Zone" you're worried, silly, or scared.
– In the "Red Zone" you're unhappy, angry, or frustrated.
The two keys for us have been to connect these zones to energy and to self identified solutions. When we process with children by way of these zones we also give them opportunities to identify whether their energy is slow, just right, high, or out of control, and they get to decide on connected actions that have the potential to help them shift from one zone to another.
It's all right to be in any one of the zones. We each experience a range of emotions and we're each challenged by that range, even into adulthood. Positive progress, consistent happiness, and achievement rest in part on our ability to self regulate so that we can function in various social and professional settings in spite of life's emotional challenges. Our children's independence with regard to the same is critical to their learning, growth, and socialization.
I didn't intend to latch onto this concept in the way that I did. It simply worked. In fact it's been working to some extent in every situation in which I've used it, with children along a broad spectrum of developmental readiness. It's helped to forester independence in those who struggle mightily and in those who simply need a break to reset every now and again.
Again, I've only been using it for a few months, but in that time I've found that it's been effective for everyone willing to engage. Even better, those who do engage seem to derive joy and from the process. It's powerful. It demonstrates that each person is actually in control of him or herself. That's powerful.
I brought it home. Nothing formal, I just kind of mentioned it to my six-year-old. He got excited. We made the following chart: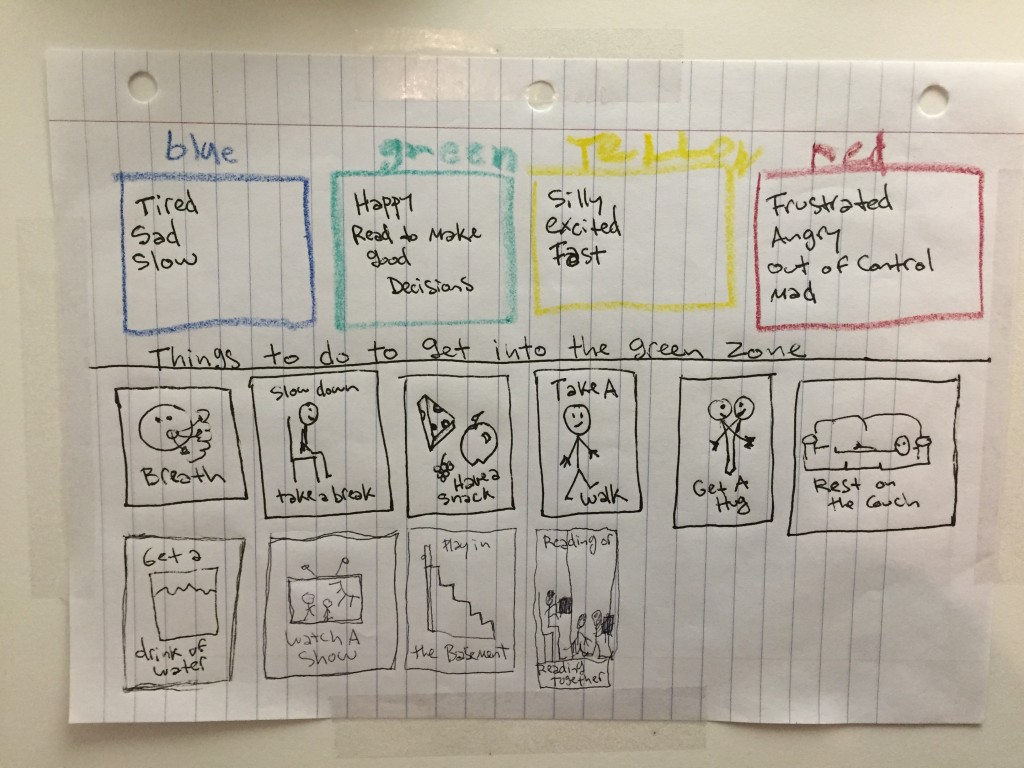 It took no time for him to understand and begin using this concept chart. In fact he now adds to it independently (he recently added the "read or read together" icon). He also now acts on his emotions and connected decision making independently or with gentle prompting. He expresses great satisfaction in his ability to do so.
His two-year-sister was playing with her Anna and Elsa dolls the other day when I overheard her say, "Elsa is really not in the green zone…she's upset!" It's concrete, connected, and it drives a doable process for kids. They can regulate their emotions and their responsive actions when they are empowered to do so. I've only scratched the surface of this concept and I'm extremely excited to dig deeper.
Check out Leah's web site, play with how it connects to your life at school and at home, let me know what you think and how you adapt the ideas and tools. I'd love to hear about your journey of fostering self-regulation and empowerment for the children you serve. Color Zone powers activate!
Live. Learn. Lead.
Dream Big. Work Hard. Press on.