Complaining About Long Walks With Puppies (and other things you might consider trying to avoid)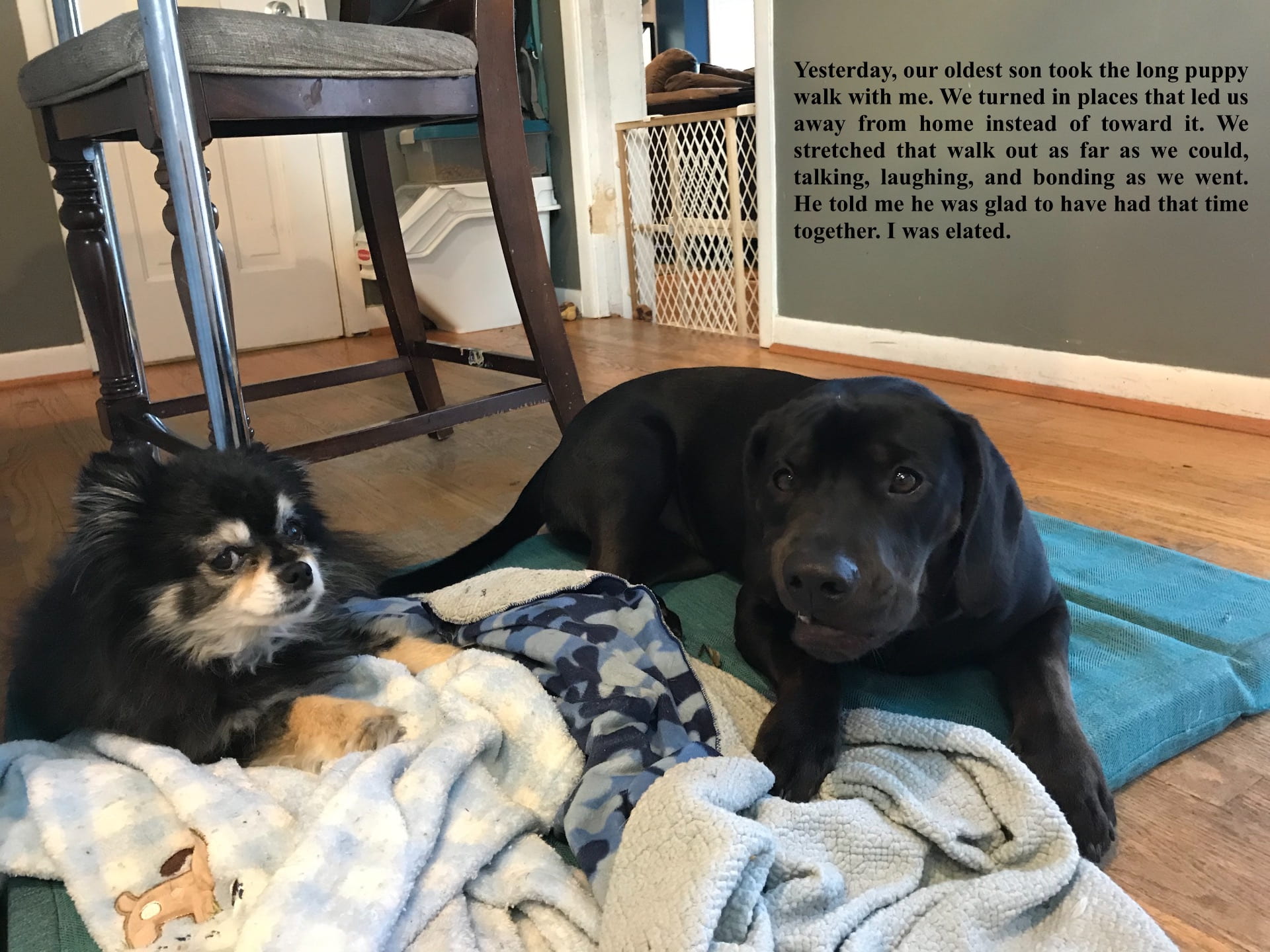 Like many others, we got a COVID puppy. Leo (the puppy in question) is a 40 lb, 7-month-old beagle, chow, chihuahua, terrier mix (according to the DNA test), and unlike our two 14-year-old long-haired Chihuahuas (6 and 8 lbs), he needs to go for long walks every day. So now, along with the multitude of other stuff I don't always get to in a given day, there's that. 
Even as I issue a complaint about "having" to go for long walks each day with a puppy, I understand how ridiculous that is. I suppose there are many people who would love to be "burdened" in this way. In fact, it's actually one of the great joys I'm fortunate enough to be able to experience. 
Currently, there are 6 people and 4 dogs living in our house. Occasionally, I use that fact as a sympathetic plea, but really, I may be one fo the luckiest people around because of it. All this canine and youthful energy, for all the momentary frustrations it beings, fuels me in very positive ways.
I'm an optimist…a naive one at that. In earnest, I believe there's a positive path forward in every situation. I see every challenge as a chance. Through my lens, opportunity surrounds us all the time. More visible in moments of clarity, and hard to recognize in moments of struggle and confusion. 
Along with being an optimist, I'm a human being, so I do go down negative paths when tough emotions get the better of me. It's what human beings do occasionally. Even an optimistic view of overcoming tough emotions leaves us treading negative paths some of the time. No one's perfect, lease of all me. Forgiveness, determination, and grit come in handy for just that reason. So does intentional positivity. 
Even when I'm not functioning and/or presenting at my best, much of my time is spent in reflection on how to make positive progress as a husband, a father, and educator, and a community leader. 
In this moment, we're all entrenched in trauma. The impact of this global health crisis has been incredibly powerful. It's caused us to have to live in ways we wouldn't have otherwise imagined. A silver-lining view brings to light many positive outcomes with regard to learning, development, and innovation, but that silver-lining view is more accessible to some that others. 
I continue to return to the notion that one of my mentors shared with me some months ago, "We are all in the same storm, but we're in different boats."
Even as I suggest intentional positivity and recommend the following exercise, I have to recognize that it will be easier to engage in for some than it will for others. Specifically, people of color and others from marginalized populations are impacted in ways that I can't even imagine as a middle-aged white man. 
The exercise is called "Opposite Behavior." I learned about it through my study of Positive Psychology. Here's how it works:
Recognize when you are feeling a tough, or negative emotion
In that moment, stop what you're doing
Think about the action you're about to take (i.e. sadness may cause you to withdraw, anger may cause you to snap at someone, etc.)
Consider the opposite behavior of the one the tough emotion is propelling you toward (i.e. engage instead of withdrawing, perpetuate and act of kindness rather than snap, etc.)
Reflect on the opposite behavior, write it down or speak it to yourself
Do the opposite behavior
Reflect on if, and how doing the opposite behavior impacted your emotional state (in theory, you should feel a shift from negative to positive)

 
Easier said than done, but with effort, doable…and in my experience – worth a try. 
Living through a pandemic isn't easy either. However, I truly believe, with the right tools, strategies, and mindset, we can manage it in positive and growth-producing ways for ourselves and our children if we're intentional about how we respond to challenges as they come our way.
Yesterday, our oldest son took the long puppy walk with me. We turned in places that led us away from home instead of toward it. We stretched that walk out as far as we could, talking, laughing, and bonding as we went. He told me he was glad to have had that time together. I was elated. 
What a treat. 
What a blessing.
What a fortunate person I am to "have" to take long walks with puppies.
I'm overwhelmed with gratitude and extremely optimistic about the way forward. 
In it together for the kids.
Live. Love. Listen. Learn. Lead. Thanks.