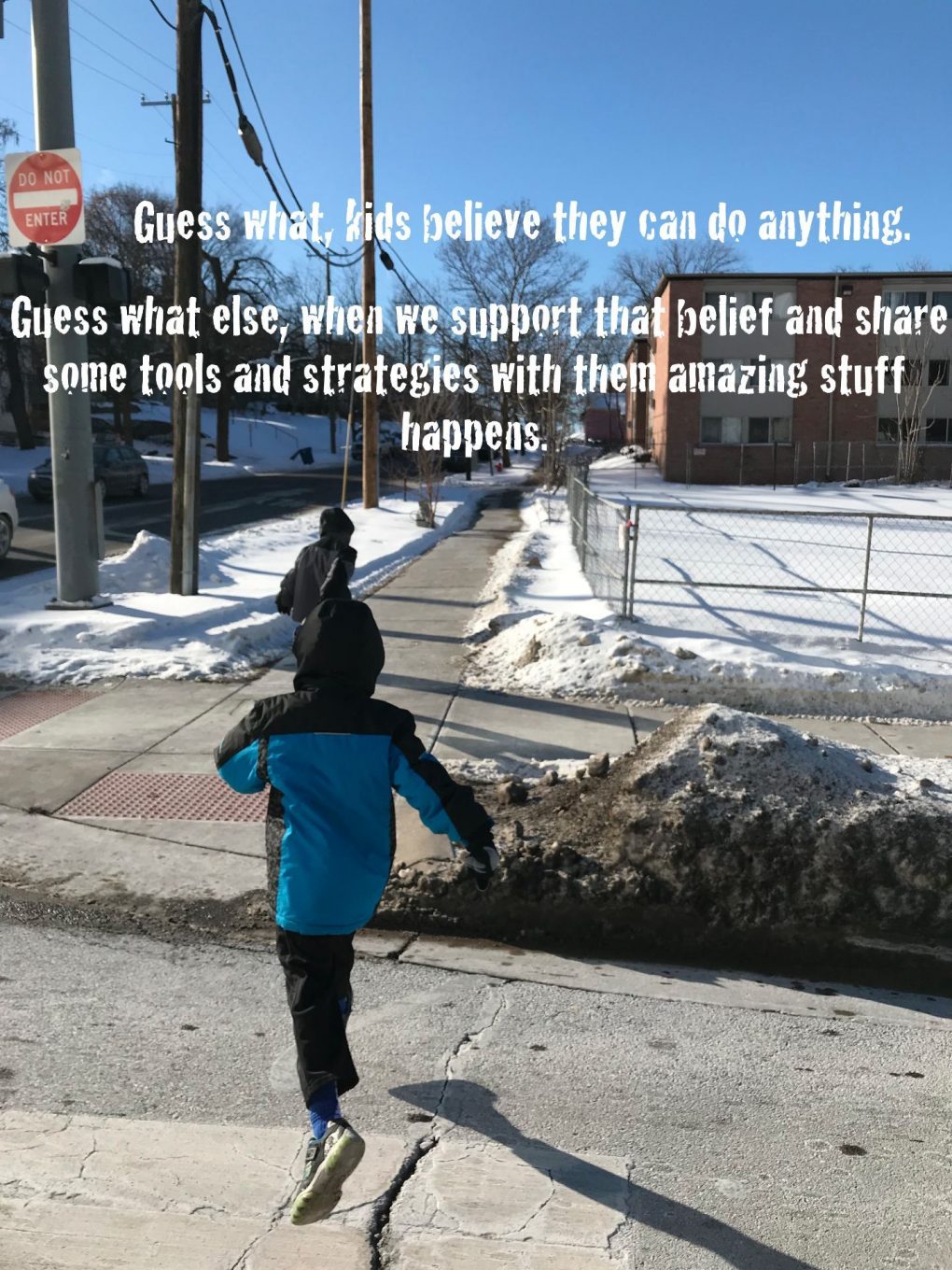 I was walking to the library with the kids. Lorelei was out, so it was just the five of us. It was a cold but sunny day. A fusion of snow and ice covered the ground with some glazed over, shiny grass peeking through.
Our eight-year-old led the way. They marched like the seven dwarfs, jolly hopping and jumping intermittently interrupted by some bumping and pushing. Laughing and talking mixed with whining, crying, and shouting.
It was a heck of a day for a walk and we were all enjoying getting out of the house after several bitterly cold days in a row.
Instead of going inside when we arrived, the crew set up shop outside the library in the frozen garden area where they had many sticks to crack ice with, some sculptures to climb on, a couple of snow banks to kick, a tree to push, and some rocks to smash and throw.
They found a painted rock. They took turns suggesting places to hide it, just within view of the next passers-by, so that they could find it too.
Kids have an amazing capacity for finding joy in just about anything. If you can find joy in smashing rocks, kicking snow banks, pushing on trees, and climbing on sculptures you should never be bored. I pretty sure that's a law of physics.
Anyway, our oldest got an idea. I knew it popped suddenly into his head with extreme force because his eye widened, his body shook, and he bounced around as if he was riding on Tigger's tail.
"We could do a show!" He cried out. He was elated!
The little ones agreed. He immediately set in describing the first episode.
The show would be called, "Mini Missions."
He would be the leader and the little ones would be the "Mini's."
Each episode would be a mix of funny and educational. They would go on adventures and teach about facts.
In this episode they would dig into ice for rocks. He would check out some library books about ice and rocks for the educational parts. They would get silly for the funny parts.
I interrupted his description to suggest that this was starting to sounds like a real TV show. I told him, "I won't be surprised if you actually produce this show when you grow up!"
He schooled me by asking (without hesitation), "Why not now?"
Why not now?
I pulled out my phone, showed him how to open iMovie, gave him a few basic tips, and about four hours later episode one was born, complete with music and titles. Funny and educational.
It's a great show! I can't wait for episode two. He tells me it's going to be about flowers.
Guess what, kids believe they can do anything.
Guess what else, when we support that belief and share some tools and strategies with them amazing stuff happens.
Why not now?
A good question for parents and educators to consider as we support the kids we serve in exploring their world.
In it together for the kids!
Live. Love. Listen. Learn. Lead. Thanks.