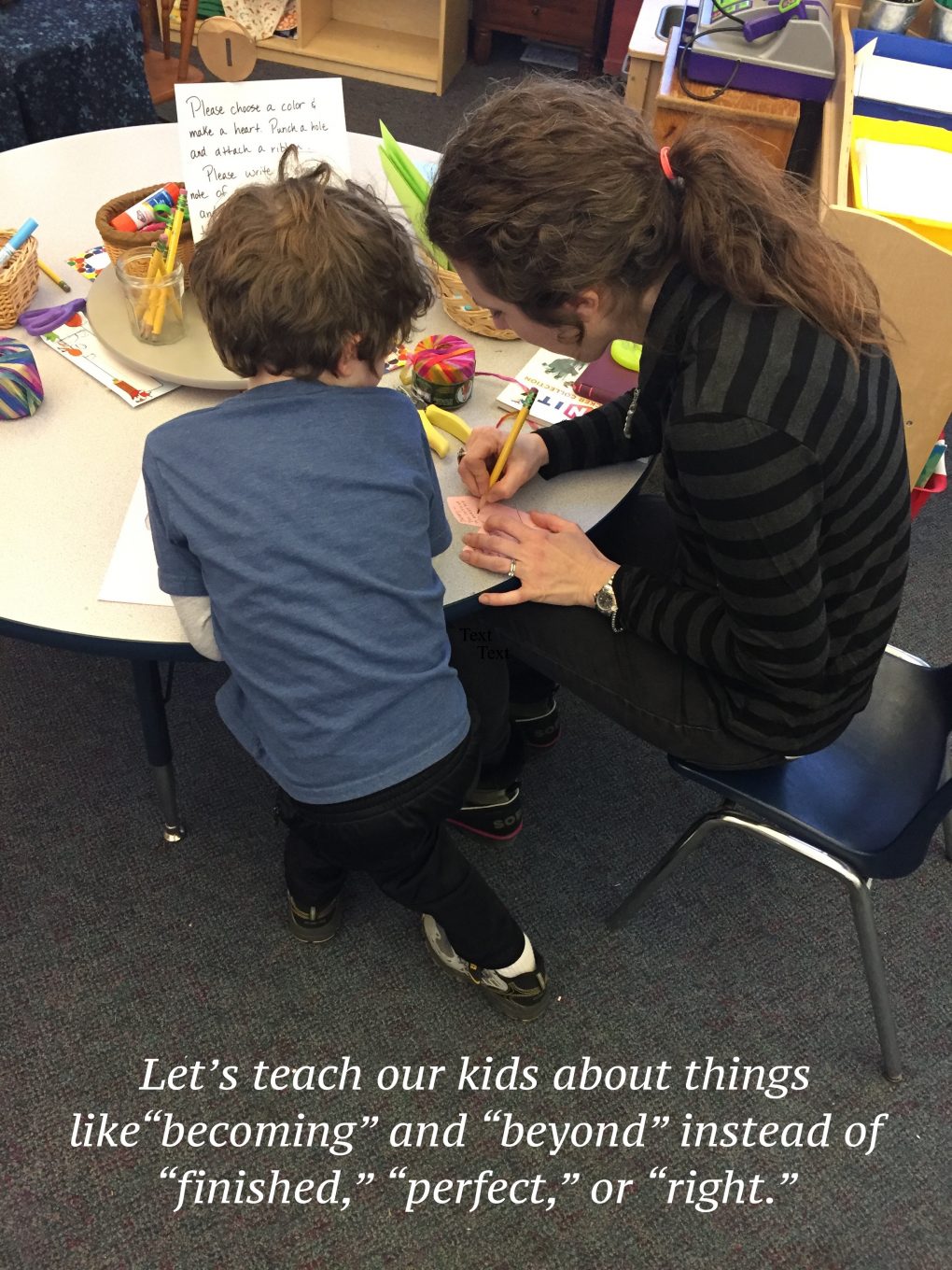 Sometimes I tell my kids, "That's perfect!"
Sometimes I tell them, "Nothing's perfect."
My son caught me in the perfect lie the other day.
We needed to get out of the house. He was drawing a picture. He was in one of those moods during which he becomes overwhelmed by a visceral need to "get it right" before moving on. I know the feeling. I understand that this need can be problematic, in part because there often seem to be no "getting it right," maybe especially for those of us who feel the need in that way (viscerally).
I wonder if those who don't feel the need to "get it right" all the time are actually "getting it right" by thinking that "not quite right" is in fact "right," on the premise (as Carol Dweck wrote in her book Mindset) that "becoming is better than being." Ironically, I genuinely believe that's "right."
Regardless, I'm thinking there might be some apple and tree stuff going on here, which is beside the point, other than to suggest that I was confident our hero wouldn't shift his attention to whatever pressing play-date or junior athletic need was looming, until the drawing looked like whatever he was tying to make it look like.
So, after exercising what I considered a good deal of patience I exclaimed, "That's perfect!"
He smiled, put down his crayons, and off we went.
A few days later he was back at it. This time, we had nowhere to go and nothing else to do. I was excited that he was taking his time. I was present with him in that moment. I was in awe of his racing, creative mind. I didn't want him to be stifled by the perfect lie. My motivation had changed.
He got frustrated. He wasn't "getting it right."
This time, in a sincere effort to help him get unstuck and shed some frustration I told him, "Nothing's perfect."
He looked at me with a crinkled face. He asked, "Then why did you tell me that my drawing was perfect before?"
Oops. I forgot that they don't forget a thing.
Carol Dweck would be ashamed of me.
I suppose I could have explained that sometimes adults mislead kids when we're trying to get them to do things the way we want them to, but that didn't seem sensible. How would he ever trust me again? I was in a pickle (figuratively).
I told him that I shouldn't have said it. I told him that one of the greatest things about life is that we're always learning and that there's always room to grow. I exposed my manipulative ways and revealed that the other day I was trying to get him to move more quickly. He smiled. He got me. It brought him joy. I was happy to help.
I thought about how easy it is for me to utter a tiny falsehood or a harmless misrepresentation to my children when it seems to serve my purpose. I found myself wrestling with the idea. I certainly can't be the only parent who misinforms his kids from time to time. I tell myself that it's for their good when I do it. That should count for something. The intention is there. Am I misleading myself? This reflective pathway is wrought with irony.
It's not like I'm telling him that the earth is flat, of that pigs can fly, or that spinach tastes good.
However, it strikes me that the perfect like could actually be whopper if I'm not careful with it. What if he develops a fixed mindset? Then I'd be sorry.
I once read about a Native American folk tradition set on the foundation that no human being is, or can produce anything "perfect." Within this tradition was the practice of purposefully leaving flaws in artwork; woven blankets with loose strings or off pattern colors, carvings that might be unbalanced or disproportionate, etc.
The idea being that life is a process and not a product. That the aim should not be to achieve perfection in any given moment, but to keep moving forward, learning all the while, and seeing evolved outcomes unfold along the unique and wondrous pathways we each tread.
I was caught in the perfect lie, and I'm glad of it. I may be better off. I'm thinking that being caught and reflecting on the experience might even enhance my ability to parent in a growth-mindset oriented way. It could help me help my kids live enhanced journies by instilling in them an enthusiasm for things like "becoming" and "beyond" instead of "finished," "perfect," or "right," and that seems right. Right (you know what I mean)?
Live. Love. Listen. Learn. Lead. Thanks.