Losing Makes You Win Better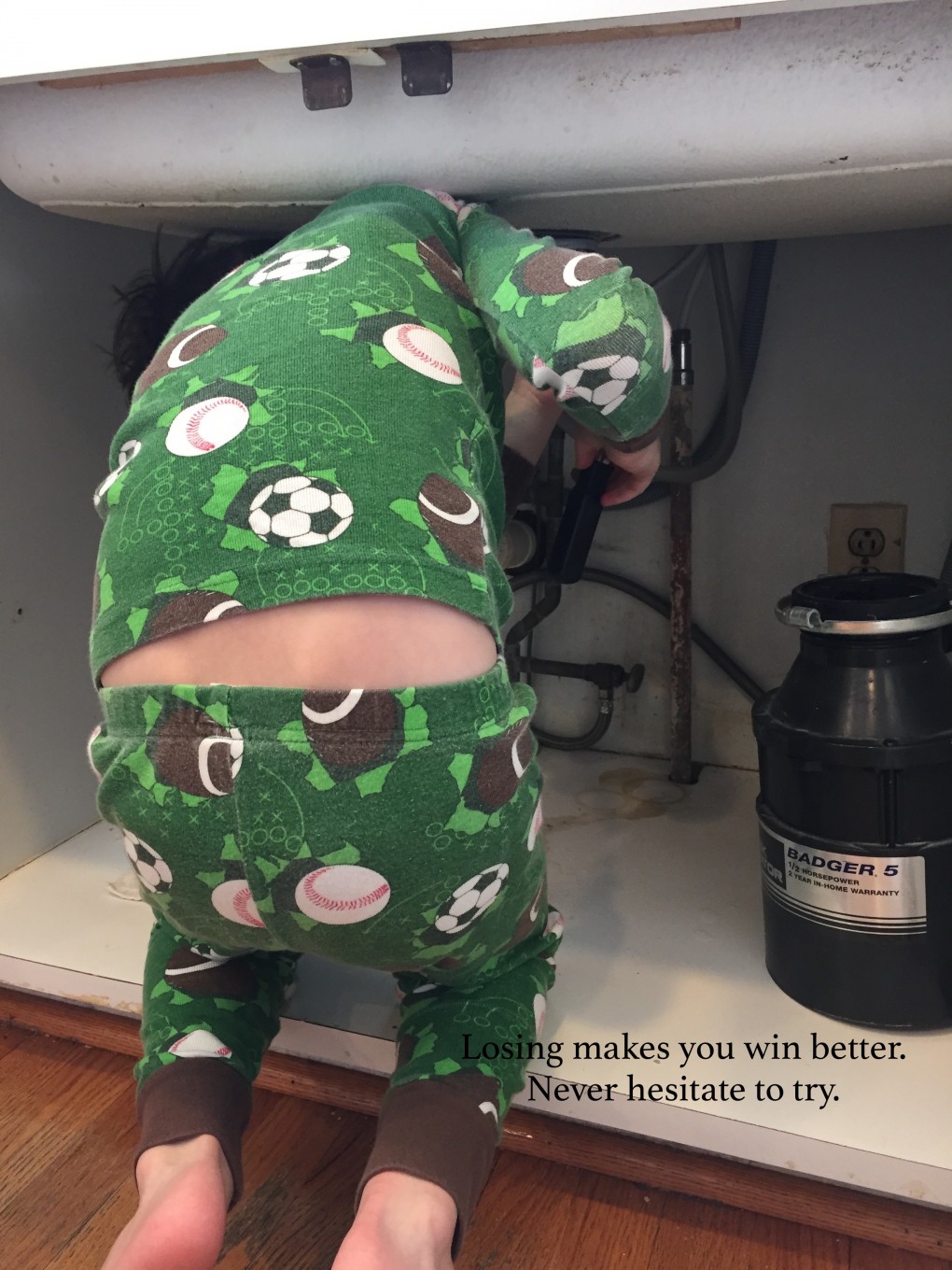 A Story. Three of us were on the couch this afternoon. My 6-year-old and I were watching the Spartan's take on Penn State. My 4-year-old was playing on my phone. They were both eating some scrambled eggs. I was munching on some left over pizza.
Every few minutes little brother would groan, whine, shutter, pout, and then settle back into the game. It's a pretty cool game. You're a square with a face sliding along a friction-less plane. You can jump by tapping the screen. The objective is to avoid obstacles along the plane. The obstacles become increasingly complex as you advance.
Little brother is pretty good, but nobody can keep going indefinitely. At some point you (the square) are bound to hit something. Then its back to the start, or to whatever benchmark you made it past before the tragic but inevitable hit; hence the "groan, whine, shutter, pout, and settle back in" pattern.
Finally I asked, "What's wrong, Bud?"
He shrieked, "I keep losing!"
Before I had a chance to remove the device from his hands in favor a much-needed break, big brother, without looking away from the game and with a half-mouthful of scrambled eggs nonchalantly commented, "Actually, that's good."
He wasn't teasing. He wasn't pushing buttons. He wasn't being silly. He believed what he was saying like he believes that even a tiny taste of asparagus is a bad idea.
Little bother shrieked even louder, "It isn't good!"
Big brother, as impartially as before, and still without bothering to distract himself from eating or watching basketball, replied, "Actually it is."
This second effort, relaxed and indifferent as it was, caught little brother's attention. He looks up at the big guy. "Why?" he asked through a whimpering tear.
This time big brother looked up. He looked him straight in the eye and informed him with every bit of sincerity that, "Losing makes you win better."
"Oh," sighed little brother with an emerging sigh of contentment accompanied by an expanding whole-face smile. Then, not only did he joyfully return to his losing streak, but also he pointed out each loss with celebratory exuberance as it came.
A Statement Dissection. The kid didn't suggest that losing has the potential to provide information about winning or that experiencing setbacks is likely to instill a combination of motivation and extended knowledge, he stated the losing makes you win better.
Losing. Nowhere in his utterance of the word was a negative connotation so much as implied. It was a good thing. It wasn't bothersome or frustrating, but rather a piece of the "winning" puzzle. "Losing," as this very young student of life presented it was highlighted as a stop along the journey. Moreover, it was highlighted as a recurrent stop, not to be frowned upon or dreaded, but to be relished and celebrated for it's tremendous and innate powers. In fact, it "makes you win better."
Makes You. The suggestion here was not that you could dig into each loss, analyze and reflect on it, and then pull out some prophetic insights that would have you headed toward achievement. No, this thing "makes you win better." You don't have a choice. It makes you! Awesome.
Win better. Paging Dr. Dweck. Can you say growth mindset? Maybe it was the beginning of the new Peanuts movie when Linus called out, "Remember Charlie Brown, it's the courage to continue that counts!" Maybe it's that kids aren't jaded or cynical. Maybe this kid simply gets it (he does seem to have his mom's smarts). Whatever it is, big brother doesn't think of winning as something you do, he thinks of it as something you keep doing along a spectrum of "better." Awesome again.      And as if that isn't enough, he's teaching it to his little brother, which takes some pressure off of me. More time to eat left over pizza and watch Sparty stomp. Speaking of which, is it a coincidence that our five losses, as horrific and heartbreaking as they each were, seem to have made Sparty win better? Watching those three-pointers sink is quite a thing for died-in-the-wool Spartan.
It works, my friends. Don't fight it. Savor and celebrate those losses. Rejoice when they're yours and support the process when they belong to your children, your students, your friends, and your loved ones. Don't fret. Don't feel bad. Feel good. Even through the challenges our occasional (or even frequent) losses bring, keep a positive heart with a foundation of learning and growth.
Truly, losing makes you win better. I know because some of the best advice I get comes from the little people I serve, and the moment I heard it I understood that this bit was spot on!
Live, listen, learn, lead…and always bring your best!